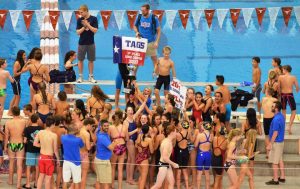 We did it again! Nitro captured another Texas Age Group Swimming team championship! That makes 12 titles for Nitro!
When the dust finally settled down at the University of Texas Swim Center Sunday night, 72 teams had scored points, several more than that were represented at this state championship meet.
Here's what the top 10 looked like:
Nitro Swimming 2122 points
Lakeside Aquatic Club (Ft Worth area) 1728.5 points
Texas Ford Aquatics (Frisco area) 1260 points
Alamo Area (San Antonio) 1204 points
Cypress Fairbanks (Fleet) 1111 points
Rockwall 986.5 points
First Colony (Houston area) 916 points
The Woodlands 884 points
North Texas Nadadores 757 points
Magnolia Aquatic Club 709.5 points
I had the pleasure of being on deck for a few of the sessions, and I want to share my observations. For a meet of this magnitude, under such a powerful spotlight shining on Texas Age Group Swimming, our Nitro athletes responded race after race, session after session, with resilience, positive attitudes, support for their teammates, and pure happiness. The mood on deck all around the Nitro area was as light as I've ever seen it. Smiles were non-stop, long lasting friendships getting more solidified.
The Coaches did an outstanding job of managing such a long and potentially stressful meet, and an even better job of having our kids prepared. Well done all around!
Shout out to the Parents and Families who sacrifice so much each season getting the kids to and from the practices and the meets. Could not/would not have done it without you all.
I also want to recognize the relay swimmers who made it to their sessions to represent Nitro on our all important Nitro relays! Thank you for being a BIG PART of this 12th TAGS Championship.
Each TAGS meet, we never really know how things are going to shake out, but from the start of this particular meet on Wednesday night, when our 800 Freestyle relays hit the water, and the boys broke a 2014 TAGS Record set by our own Nitro guys who are now in our National Group, I had a feeling it was going to be a special kind of meet!
I won't get into the details of who broke what records, who placed top 16, top 8, who won individual TAGS events, or even our relay champions. I will leave that up to the Lead Group Coaches to do that and share with their groups.
I just want to say how proud I am of our Nitro Kids, our Nitro Families, and our Nitro Coaches and Nitro Support staff that all make it happen day after day after day.
If you are taking a bit of a breather and are out of town traveling, stay safe, enjoy your break, and we'll see you when you return!
Thank you, ALL of you for being a part of Nitro, and we'll see you at the pool! – Coach Mike.