Adult Swim Lessons
We have taught hundreds of adults in the Austin area how to swim with our Adult Swim Lesson curriculum.  Even if you can swim and just want to swim better so that you can be more comfortable at the beach or on the lake, we can fine tune a lessons program for you.  Give us a call and tell us what your goals are.  We will help you achieve it!
Cost:    One 45 minute lesson per week - $91/month (4 lessons)
Location:  Nitro-Bee Cave and Nitro-Cedar Park
Schedule for Adult Swim Lessons:
Nitro - Bee Cave: Wed 7:15pm, Sat 7:15am
Nitro - Cedar Park: Wed 8:45am, 7:45pm; Sat 7:15am
Online Registration - Click on the link below to register for Adult Swim Lessons
 Masters Swimming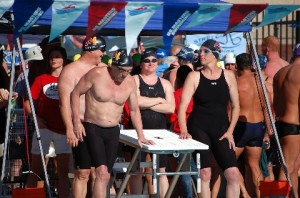 At Nitro, our Masters Swimming Program is open to all adults who are dedicated to improving their fitness, training for specific goals and enjoying the camaraderie  of other swimmers.  Our Masters group provides well structured and focused workouts which are designed to help you improve your performance over time.
We also offer the opportunity for you to compete as a member of the Nitro Masters Swim Team. The Nitro Masters group is also the home to Triathletes who are looking for an edge with the swim portion of their event.  At Nitro you can train with some of the best athletes in the area to gain a competitive advantage in the water.  The Masters' workouts are typically in the range of 3000-4000 yards in 75 minutes. We have a wide variety of members from those that swim for fitness to National level swimmers.
Interested in learning more or maybe try a practice first? Contact us!
Fun and Fitness
Our Fun and Fitness group primarily focuses on basic freestyle and is designed to accommodate the novice swimmer looking to build their endurance and capability in swimming. The workouts vary depending on the individual swimmers' ability. Come in and try a practice before you decide.  Registration may be submitted online (See below).
Masters Swimming/Fun & Fitness Online Registration
Cost:   $75 per month plus U.S. Masters Swimming membership of $51
Masters Nitro Cedar Park 2017 Register Here
Masters Nitro Bee Cave 2017 Register Here
Schedule for Masters/Fun and Fitness 
Nitro-Cedar Park:
Monday through Saturdays 5:30am to 6:45am

Nitro-Bee Cave:
Monday through Saturdays 5:30am to 6:45am
Mon/Wed/Thu 12pm to 1pm
Please note Summer Hours: Starting Monday June 5th  - August 3, Bee Cave Noon practice will change to Mon/Wed/Thurs  1:00pm - 2:00pm