Adult Swim Lessons
We have taught hundreds of adults in the Austin area how to swim with our Adult Swim Lesson curriculum. 
Our Adult Swim Lessons are an excellent choice if you've never learned to swim! 
Even if you can swim and just want to swim better so that you can be more comfortable at the beach or on the lake, we can fine tune a lessons program for you.  Give us a call and tell us what your goals are.  We will help you achieve it!   
Monthly Lessons Fee: See Schedules
Location:  Nitro-Bee Cave, Nitro-Cedar Park Only
Schedule for Adult Swim Lessons:
Online Registration - Click on the link below to register for Adult Swim Lessons
 Masters Swimming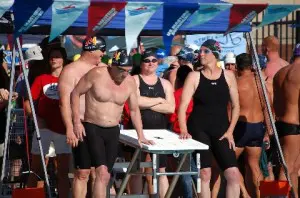 At Nitro, our Masters Swimming Program is open to all adults who are dedicated to improving their fitness, training for specific goals and enjoying the camaraderie of other swimmers.  Our Masters group provides workouts which are designed to help you improve your performance over time.
There is a set of watchful eyes on the deck during practice times to help you as much (or as little) as you'd like.
So whether you are just starting out on your swim journey and your goal is to learn to swim better for health or fitness, or looking to complete your first triathlon, or perhaps you're on the upper end of the swim scale and you want to compete at Masters Nationals, you'll find what you need here at Nitro.
The Masters' workouts are typically in the range of 3000-4000 yards in 75 minutes, but we adjust that accordingly for whatever your level is, and make things comfortable and enjoyable for you.
Interested in learning more or maybe try a practice first? Contact us!
Schedule & Cost for Masters 
Nitro-Cedar Park:
Schedule:
Monday - Friday 5:15-6:30 AM
Pricing:
Masters - Nitro Cedar Park - Register Now
Nitro-Bee Cave:
Schedule:
Mornings Monday - Friday 5:30-6:45 AM
Afternoons Monday - Thursday 12:00-1:00 PM
Pricing:
Masters -  Nitro Bee Cave - Register Now