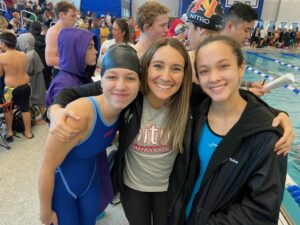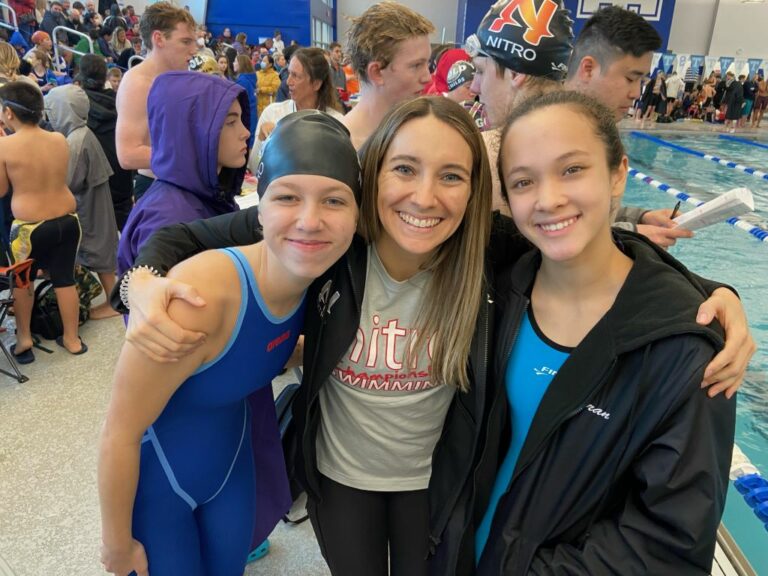 What a weekend it was at STX Champs in Temple! While there wasn't a lot of deck space, the energy was through the roof. Congratulations to all STX Champs athletes and great job at being the nicest team there. From thanking timers and officials, to cleaning up our area, Nitro swimmers knocked it out of the park.
Friday kicked off with the 1650, with Cody Yount shaving off a clean two and a half minutes to win it. Then the 10 & Under 500s hit, with 100% drops from Nitro swimmers. This was followed by some huge swims in the 400 IM by our 13-18 kiddos. Congrats to Laurel Hoskovec for being the STX Champion in the 400 IM, closely followed by teammate, Libby Gunn! Joshua Gao took the win with a 3+ second drop for the 13-14 boys as well.
On Saturday, Aida Jakhangirova set the tone of her meet by knocking out a brand new 50 free A cut in her first event of the day. When the 100 fly came around, it quickly became apparent that Nitro has some of the best flyers in South Texas as Camila Mota, Rian Moran, Zechariah Utama, and George Adamopoulos weren't just shaving times, they were crushing them.
The relays were a crazy bunch with very little deck space, so things got very crowded very fast. Well done to all the relay swimmers who stayed composed, positive, and focused. This translated to some very fast racing and a ton of fun.
While Nitro swam well in prelims, it was finals where we really shined. Athletes were hungry to race and our team in particular did an amazing job in not just outswimming the competition, but also congratulating other swimmers. It's hard to pick just one swim of the night, but some serious contenders are Andrea Becerra Davalos dropping 11 seconds for a new A cut in her 200 free, and Tinley Harrison knocking out her A cut in the 200 breast by nearly 4 seconds. Wilson Phillips and Fernando Matas also crushed their 200 free, with Wilson winning the event, and both boys getting under the 2:00 mark for the first time. Congrats to the STX Champs of the night: Maria DeFex, Ella Shepherd, Weston Fagg in the 100 Fly, Declan Howell in the 200 Breast, Reagan Wenglar and George Adamopoulos in the 100 Back, and to wrap up the evening with Pepper Gunn and Aarez Funaro in the 50 Breast!
We carried that energy through Sunday. Weston Fagg nailed his second A cut of the meet in his 50 fly in a very impressive swim. Libby Gunn and Sean Goodman crushed the 200 fly—certainly not an easy event to do that in. Huge props to Tijl Peeters on his 100 free with another new cut. Samuel Stone has been working his tail off at practice and it's paying off with 100% best times at this meet. Congrats to STX Champs of the night: Aida Jakhangirova in the 50 Fly, Naomi Brown in the 100 Free, Owen Crowns in the 200 Fly, Rachel Pickens and Parker Huang in the 100 Breast, Mako Miyashita, Hayden Scarborough, and George Adamopoulous in the 200 Back, Naomi Brown, Anna Leggate, and Wilson Phillips impressive wins in the 200 IM, and May Liang and Kellen Condron winning the 50 Back to wrap up the meet.
Overall, Nitro was incredibly successful at this meet. While getting new cuts isn't the only goal in competitive swimming, Nitro is walking away with 108 total A cuts from this meet and that is certainly a considerable achievement.
Congrats to all STX Champs athletes and GO NITRO!