Nitro Swimming is Open for Swim Lessons and Swim Team Practice!
Update November 21, 2020
We've been fortunate that no covid positive cases have been tracked back to Nitro as a source.  Obviously we all want that to continue. We're asking that our Swim School Families (those taking lessons in the small pool) limit their representation inside the centers to 1 family member (parent/guardian) per swimmer.  
But for Team Families:  It has been 6 months since we re-opened in mid May.  We can't let our guards down yet. Regardless of anyone's personal thoughts/opinions on the virus, regardless that we are still one of the safest activities in which to participate,  we're requesting that team parents remain out of the swim center during practices. The exceptions I'm OK with are any confirmed medical conditions (that we would have on file with your registration info); or a brand new swimmer in their first week – allowing a parent to see how we run the program/practice.
That's about it. 
What has a tendency of happening over time, "creep" begins to occur. Distancing starts to relax. Masks begin to come off. More and more spectators begin to make their way onto the pool deck – thinking "I'm only one person, no big deal."  One becomes two, two becomes 17, 17 becomes... you know the rest of that story.
We need spectators off the deck and to remain out of the building during practices --- EXCEPT with confirmed medical conditions that we have documentation of or a brand new swimmer's parent who wants to check us out in person for their swimmer's first week in the water with us.  
Those of you that have known me for a while know that I'm a big fan of our parents. I love it when you all are in the bleachers watching practices, meets, etc. I typically stop and grab a seat in those same bleachers with you all and chat for a bit to hear what's been going on in your lives. But now is not the time for that. Bear with us a bit longer, and perhaps we'll see a return to the old normal sooner rather than later. For now we need to be vigilant in and around the swim center. Thank you!
We'll see you at the pool! Coach Mike
Update July 16, 2020
Just Keep Swimming. Just Keep Swimming. Just Keep...
It's so nice seeing more of our swimmers returning to the water as well as seeing plenty of brand new smiling faces!
Thank you to our parents for the multiple notes of support saying how grateful they are that we're able to provide that critical sense of normalcy into their kids lives. We're grateful for all of YOU!
If you'd like to set up a time for a new swimmer evaluation (no more than 10 minutes, super pleasant experience), contact us and we'll set it up!
We'll see you at the pool! Coach Mike
Update June 2, 2020
Update of Nitro Swimming's Face Mask Policy
Our goal continues to be focused on the health and safety of our swimmers and staff so as of 6/1/2020,  our entire desk staff is required to wear protective masks and our swim instructors are wearing their face shields.  We are still limiting our Swim School pools here in Texas to no more than 3 Instructors at a time in the water. The kids are spaced apart, buffer between classes, controlling about as much as we can control, and lessons and teams are running smoothly without a hitch.
Now that we're opened, we're following the generally accepted guidelines being set regarding the wearing of masks.
Our staff will continue to wear masks until otherwise instructed by the folks who are setting the policies. We have also moved toward what HEB, Wal Mart, Home Depot, area restaurants, health clubs like Lifetime Fitness and Gold's are doing: suggesting and encouraging the use of masks on anyone inside, but not mandating their use.
As the owner of Nitro, I didn't  want our staff getting put in any type of contentious situation as I've seen happen around the country. I've instructed them to continue to suggest and encourage the wearing of masks. We will continue to ask / remind/ suggest/ and encourage. All in all, parents and kids have been extremely happy. Thanks for being part of Nitro!  - Mike Koleber, Nitro Swimming.
Recent Photos From Our Re-Opening
Update May 25, 2020
Our first week of being re-opened was a welcome change for our swimmers (and parents) and we are so happy to be swimming again.
Read Coach Mike's recap of our first week back in the water.
Update May 22, 2020
We love getting messages like these from our Nitro Family!
Thank you Mike, you and your team are doing a fantastic job!! This is the first week that my girls have felt like things are normal, having swim to look forward to every day. I appreciate that you will be swimming Monday — we've had enough time off :-). - C. P.

My children are so, so excited to be swimming again. It's means so much during these weird times to have just a little bit of normal back. Appreciate you all. - S.N.

Coach Mike, We have been part of the Nitro family for almost 5 years now. The excitement, pride and joy we witnessed as the coaches welcomed back swimmers today was phenomenal. Coach Robert was extremely proud to show off the updates/changes to the facility. Which I must say are spectacular. Especially the bathrooms!! Everything ran very smoothly which is a testament to your teams hard work over the past several months. We are very excited to have your doors open again.  - S. P. 
Update May 21, 2020
We're 4 days into our official re-start, and the kids and coaches are doing great! We're holding new swimmer evaluations every day at the Cedar Park and Bee Cave locations, with another 8 new swimmers today! They have heard from their friends that we're swimming, being very mindful of safety and health precautions, and the word is getting out.  New families can register today and start their classes tomorrow learning how to swim.
Thank you for being a part of Nitro, and I'll see you at the pool! - Coach Mike.
Update May 20, 2020
We love getting these messages from our Nitro Family as they get back in the water!
Hello Coach Mike

I was not sure who was more excited yesterday whether the coaches or the kids. My daughter Emma could not stop smiling and she loved the fact that Coach Lindsay's mask had a smile! Emma came out beaming and her first words were I missed swimming and I had fun. It is great to have Nitro back!! Thank you and thanks to all staff for all your hard work and your ongoing vigilance to make the return safe for the kids. We greatly appreciate it. Now my new problem is my 4 yr is wondering why she is not swimming with her coach .....and that is a good problem to have. Looking forward to guides for swim school to start. 🙂 By the way the Nitro videos from all the coaches and the return to swim are awesome!! Once again, thank you!! - The L. family
Update May 19, 2020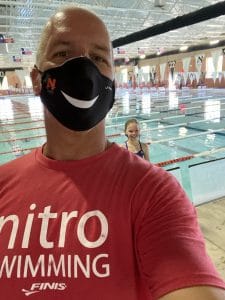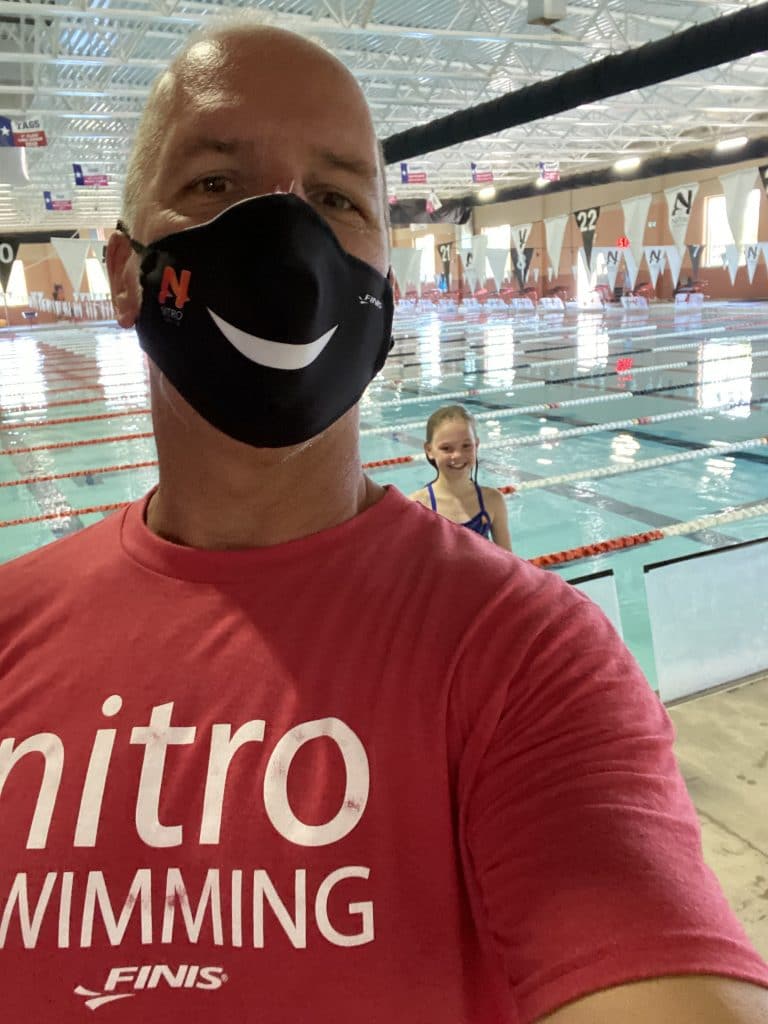 Nitro is Open! We're back in the water! Please read the May 14 update below about what we're doing to maintain a safe environment for our swimmers and coaches.
Here's a quote from one of our Nitro Family parents:
Hi Coach Mike,

Just a quick note to say thank you for your (and your team's) hard work throughout this very odd time.  My son returned to Cedar Park (TF) today at 4:30 and LOVED it.  He was so happy when he came outside - learned to dive from the block and thought the almost one on one with his coach was great.  Getting to do cannonballs at the end of class was also a bonus.  We greatly appreciate your dedication and commitment to your staff, athletes, and the wonderful program you have put together.  And through it all, you add in a little humor and sweetness...the video of seniors was awesome, the "Twas the Night Before Nitro" poem creative and funny...all of the little things add up greatly. 

We wish you well and thank you so much,

M. A.
Update May 14, 2020
Nitro Bee Cave and Cedar Park Swim Centers will be opening on Monday May 18, 2020
Nitro Fort Wayne Swim School is scheduled to open on May 26, 2020
Not only are we excited to see our loyal Nitro Families returning, we also are looking forward to meet the many new Families who will be discovering us for the first time and making Nitro their swimming home.
We've put a lot of care and attention into our operations to help keep our Families safe as we begin the re-opening phase. Some of them will be easily visible the moment you walk in to any of our locations.
You'll see traffic flow being designated.
You'll see separate exits for Swim School and our Swim Team groups.
You'll see less kids in the water, as we've adjusted our schedules and class sizes to lower the risks of any potentially unhealthy scenarios.
Here are a few other things going on behind the scenes to keep our swimmers and coaches safe:
We're keeping the locker rooms/changing rooms off limits for now except for the use of the toilets.
We have our Ultraviolet (UV) filtration systems operating 24/7 on all of our pools keeping the water quality impeccable.
Our nightly cleaning crew is working extremely hard disinfecting every area that has any potential for human contact during the day.
And we've been extremely busy over the last 8 weeks in order to bring you the highest quality experience that you expect from Nitro. Our amazing Nitro staff deep cleaned, painted, replaced countless air filters and scrubbed all the locker and changing areas of each of our three Nitro Swimming locations.
We're ready, willing, and able to deliver Visible Improvement, Delivered with Passion and Joy, Every Day with our professional and friendly team of Admin Pros, Instructors, and Coaches.
If you feel more comfortable waiting a little longer before starting back up with us or perhaps starting for the first time, we totally understand. We want you to know that we'll be here when you are ready.
At Nitro Swimming, others "do" lessons, we TEACH Swimming! See you at the pool! Mike Koleber, Nitro Swimming.