The Meteoric Rise of Nitro Swimming
Photo Courtesy: Nitro Swimming
By Tera Bradham, Swimming World Intern
Reposted from:  http://www.swimmingworldmagazine.com/news/the-meteoric-rise-of-nitro-swimming/
The majority of people look at those who have overcome impossible odds, accomplished the unthinkable, or dared to do the extravagant, and they think, "How do they do it?"
How do they do the millions of things they do every day, and never get tired? How do they keep other people's opinions from affecting them, when those voices seem more logical than their own? How do these people continue to keep pushing, even when all hope is lost? How do they do it?
You're asking the wrong question. It's not how they do it; it's why they do it. Most people get caught up in the menial details of a dream, trying to plan out every step of the journey before they simply take the first step.
If your "why" is stronger than your "how," then you will make a way where there isn't one. If your "why" is motivating enough, your "how" will come naturally. The impossible will become your normal, and others will start to look at you, shake their heads, and say, "How does he do it?"
A Man with a Dream
Mike Koleber, the founder of Nitro Swimming, takes every breath with purpose. Fourteen years ago he drew his vision of a team on a napkin. His wife, Tracy, looked at him and said, "How are you going to do it?"
He said, "I don't know. But I know why."
The "why" was simple: he wanted freedom.
"Freedom to run a program the way we wanted to run it," he says. He got tired of "following other people's rules," being bound by leasing agreements, and other people controlling the water.
So Mike Koleber set out to own the water. Specifically, he set out to build the second Olympic-sized indoor pool in the greater Austin area.
The task was no small feat for him or his family. While their children quickly adapted to the aquatic lifestyle, Tracy Koleber assumed responsibility for the "dry side" of Nitro. In other words, while Mike handled everything "wet," she administrated the entire business side of Nitro.
Leaders must lead by example, and if Nitro Swimming is about being "all in," the Koleber family models that perfectly.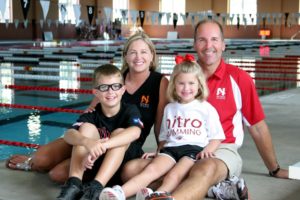 Mike Koleber with his wife Tracy and their children, Kalan and Kembree.  Photo Courtesy: Nitro Swimming
The Meteoric Rise
Between the napkin sketch of the vision in 2001 and the doors opening in June of 2007, "blood, sweat, and tears" built the Nitro Swimming pool.
Koleber smiles as he reminisces about the journey.
"If it was easy, everyone would do it.  It isn't easy.  But I wouldn't trade it for the world." 
When Koleber created Nitro, he had one thing in mind: No one gets lost.  To achieve this goal, Koleber had to hire a coaching staff that "really, truly cares."
His mindset was, "If we expect our kids to outwork, to out-train and to out-swim everyone else, why don't we hold ourselves to the same standards?" He decided he would only hire coaches who were willing to buy in and to give 100 percent to developing swimmers as athletes and people.
The results are compelling. Like the explosive for which the team is named, Nitro has exploded onto the state and national scene only eight years after the club officially began. Not only is Nitro now a USA Swimming Top 5 club team, but they also have won the Texas Age Group Swimming State Championships seven times.
Photo Courtesy: Nitro Swimming
The National Scene
One of the coaches who takes "outcoaching" others seriously is the coach of the National Group, Tim O'Brien. After coaching at the University of Georgia and at Swim Atlanta, O'Brien spearheaded the explosion of Nitro onto the national scene.
At the national level, Nitro now boasts six Junior National Champions and six National Junior Team members, in addition to their growing base of Olympic Trials qualifiers.
Sean Grieshop recently broke National Age Group records in the 500 and 1650 freestyle, while his teammate and training partner, Taylor Abbott, is an Open Water World Champion. Additionally, Tate Jackson sprinted his way onto the National Junior Team this year in the 50 free.
On the girls' side, Reagan Barney is currently one of the fastest 15-16 women in the country in the 400 IM, while Karling Hemstreet has represented Nitro internationally at Canadian Nationals.
Nitro alums William Licon and Matt Ellis are now NCAA champions, and with the Olympics quickly approaching, many swimmers championing the Nitro "N" have a shot at making it to Rio.
Sean Grieshop breaks the 15-16 National Age Group Record in the 1650 free at Winter Junior Nationals
Taylor Abbott wins the Boys 5K at Junior World Champs  Photo Courtesy: USA Swimming
The "Why"
So how has this club become such a formidable power in the sport of swimming? 
It all goes back to the "why" of Nitro Swimming, as opposed to the "how."
Nitro has now built a second pool in the Bee Cave area, and "owning the water" no longer provides the motivation for its rapid expansion. Nitro's heartbeat comes from knowing that swimming is what swimmers do, but it is not who they are.
"The biggest compliment we can get from another coach is 'Man, Nitro swimmers are nice.' The second biggest compliment is, 'Man, they know how to race.' I don't ever want that to be reversed," Koleber explains.
"Person. Athlete. Swimmer. In that order," says Koleber.
Many things can be accomplished with nice swimmers on a pool deck, serving each other and looking out for one another as teammates. Once a team has great people, Koleber says, swimming teaches them work ethic, delayed gratification, and a myriad of other life lessons.
Then the great swimmers emerge.
Never Stop Improving
Someone once asked Koleber when he realized his team was a success.
He responded simply, "I don't see it as a success, because we never stop improving."
Koleber claims the team always has room for improvement, and his ultimate goal is for Nitro to become the best team in the country.
"You know, we fall every day. But we fall forward, and then we get back up again. You can't be afraid of making mistakes.  Take a chance.  Take a risk."
In a sport as unforgiving as swimming, there is no room for complacency.
"Never quit thinking, 'What could be better?'"  Koleber declares.  "We are not going to rest, and we are never going to stop improving."
Photo Courtesy: Griffin Scott
For those who have witnessed Nitro's rise in this sport, there is no doubt their climb will continue.
"We wanted to be in charge of our own destiny and to write our own rules," Koleber says.
It appears Nitro Swimming has done exactly that.
For more information about Nitro Swimming, you can follow @nitroswim and @nitronational, or visit their website at nitroswim.com