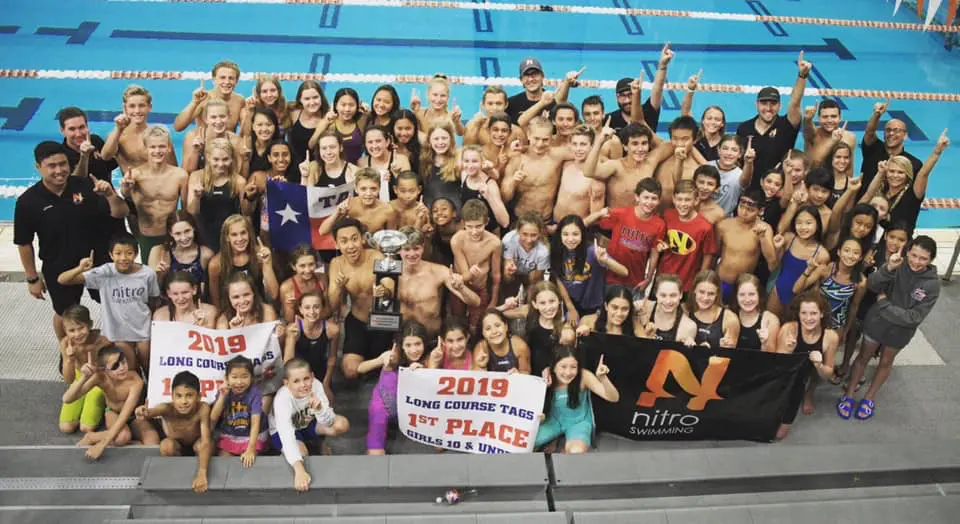 2019 Long Course TAGS Recap from Coach Mike:
Now onto the TAGS Recap…
Let's get right to the Final Team Scores of the 2019 Long Course Texas Age Group Swimming Championships…
It's been a while since I've seen us do it, but we won the overall Girl's Team title and the overall Boy's Team title. Combined, the top 10 teams looked like this:
Nitro Swimming 2326
Lakeside Aquatic Club 1704
North Texas Nadadores 1633
Cypress Fairbanks Swim Club 1291.5
Alamo Area 923
Texas Ford Aquatics 907.5
Rockwall 845
Swim Streamline of Northampton 816.5
The Woodlands 636.5
Magnolia Aquatic Club 620
When it was all said and done, 71 Teams across Texas scored points at this meet. It was a TOTAL TEAM effort to do what Nitro did over the last few days. I'd like to acknowledge the kids who kept bringing it and bringing it to every session. Through the highs and not so highs, all was positive and energetic in the Nitro Nation. I also want to take the time and thank all of our Parents and Families who sacrificed so much to be there and continue to support your children in this wonderful sport of swimming. Thank YOU!
Special Shout Outs to Olivia Pena and Meredith Wolfe who both could be seen timing behind lanes 1 and 2!
Lastly, the Coaching Crew of Allison, Jeremy, Alex, Randy, and Felix who were there giving it there all every session – every Prelim, every Final, every warm up, every warm down. That started on Wednesday and just ended tonight. Well done Coaches!
I also want to say how cool it is that we have Coaches on Nitro who weren't even assigned to the meet who came down on their own to support the kids! Daniel and Dan were on deck for several sessions. Tonight Peter and Makaylee also joined us on deck. Up in the stands were Lindsay, Paige, Claire, and Daniel (who couldn't get down on deck tonight, but TRIED!!). That says a lot about the kind of people who are working with the kids. Nice job all!
Here we go with the top 16's of the final day of TAGS plus the Relays:
First event: 100 Backstroke
13-14 Girls: 1st Morgan Rodriguez, 3rd Norah Cullicott, 4th Trinity Hoang, 8th Paula Warren. HUGE!! 4 in the top 8! I asked Morgan after the race if she saw the girl next to her at the 50 who was a ½ a body length ahead of her coming off the wall, and with typical Morgan Rodriguez confidence answers: "I knew she'd get tired, and I knew I'd catch her and beat her." Gotta love confidence!
13-14 Boys: 2nd Logan Walker, 9th Jeremy Kelly.
11-12 Girls: 15th Aubrey McLaughlin
10 & Under Girls: 1st Lyla Lusk (our 2nd TAGS Champion for the night with a NEW TAGS RECORD); 10th Lola Maciarz!
10 & Under Boys: 2nd Ben Liang!
200 Breastroke
11-12 Boys: 3rd Casey Wei, 11th Steven Ma!
13-14 Girls: 4th Jaylin DuBose, 5th Julia Rautaneva!
13-14 Boys: 3rd Jeremy Kelly!
1500 Freestyle (also known as the "mile")
13-14 Girls
4th Sydney Rawie (from this MORNING!!), 14th Kaylee Wu, 16h Julia Rautaneva!
50 Freestyle
Girls 10 & Under
2nd Lyla Lusk, 6th Lola Maciarz!
Boys 10 & Under
3rd Ben Liang, 9th Maxton Boyer!
11-12 Girls
15th Olivia Brown!
11-12 Boys
12th Oliver Rowe!
13-14 Girls
1st Trinity Hoang, 6th Norah Cullicott, 8th Sasha Dauletau, 13th Avery Mehok, 15th Julia Carter!
13-14 Boys
9th Jeremy Kelly, 12th Kelson Flynn, 16th Rance Blancaflor!
And now for the Nitro RELAYS!!
200 Medley Relay
10 & Under Girls: 1st (Lyla Lusk, Sienna Chozick, Lola Maciarz, and Buttercup Rowe); 9th (Elise Nguyen, Rachel Seal, Brooke Frushour, and Iyla Gamez); 16th (Lucy Gilbreath, Norah Harkin, Melissa Miyashita, and Kaylinn Mize)!!
10 & Under Boys: 3rd (Ben Liang, Kyle Lee, Miguel Gomez, Maxton Boyer); we also had the relay of Graceson Ognoskie, Oliver Ward, Dane Mason, and Cael Helm swim one heck of a great race!
11-12 Girls
14th (Amy Park, Amelie Breton, Olivia Brown, and Simone Koret); 19th (Aubrey McLaughlin, Angela Fu, Sophia Struck, and Cameron Word)!
11-12 Boys
2nd (Timmy Guan, Steven Ma, Oliver Rowe, and Philippe Diaz); 14th (Casey Wei, Gannon Flynn, Marcus Pineiro, and Joseph Zhang); 18th: (Justin Shi, Aaron Li, Augie Sefcik, and Victor Teeters)!
13-14 Girls
1st – with a NEW TAGS RECORD! (Morgan Rodriguez, Michaela Koltz, Sasha Dauletau, Trinity Hoang); 8th: (Norah Cullicott, Jaylin Dubose, Sofia Vargas, and Kaylee Wu); 13th: (Paula Warren, Julia Rautaneva, Shireen Gore, and Sydney Rawie); 16th: (Jasmine Park, Chloe Wilkins, Avery Mehok, and Julia Carter); and we had one more hard working relay of Mia Nobles, Helen Singletary, Maddie Davis, and Michelle Taylor!
13-14 Boys
2nd (Logan Walker, Jeremy Kelly, Greg Frazier, and Kelson Flynn); and 15th (Stef Teeters, Rance Blancaflor, Aiydan Schweitzer, and Danny Bishop)!
That wraps up another TAGS meet. Thank you for being part of Nitro Swimming, 15 time TAGS Champs! See you at the pool! Coach Mike.