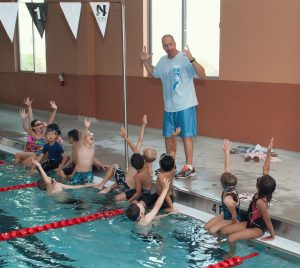 Nitro Summer Rec 2017  
New Summer Rec Sessions Added. See Below!
Come Join Us for Nitro Summer Rec! 
Professionally coached by Nitro's Own USA Swimming Certified Coaches!
All Nitro Swim School graduates are invited to attend.
Requirements:
Ages 6 and Up
Must be able to make it across the pool (25 yards) on front and back.  We'll teach the rest!
NOTE:  If in our swim lessons program:  Must be a Nitro 1 graduate or  Station 4 or higher in Nitro 2.
When:
Monday through Thursday, Four Days a week of Expert Instruction and Fun!
Convenient Times per day:

Bee Cave: 11:45-12:45pm or 7:00pm-8:00pm
Cedar Park: 12:15-1:15pm or  6:00-7:00pm (6-8 yr olds only) or 7:00-8:00pm
1st Session – June 5 – June 29, 2017
2nd Session – July 10 – Aug 3, 2017
What You'll Learn:
All four competitive strokes
Dives, racing starts, finishes
Improved skills and techniques to make you a better swimmer
Cost:
Only $155 per swimmer per session. No registration fees, no team fees!
No fundraisers, no parent volunteer hours, no harmful sun exposure.
Registration: (Clink on the links below to sign up)
Nitro Bee Cave Location
Nitro Cedar Park Location
All swimmers will receive a limited edition special Nitro Summer Rec t-shirt!
The 4 week Session culminates with a fun one hour meet where the kids showcase their advanced skilled and let their parents see how improved they are after just 4 weeks!