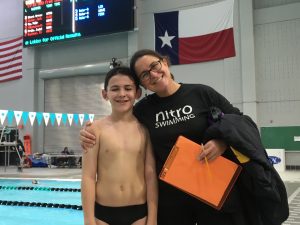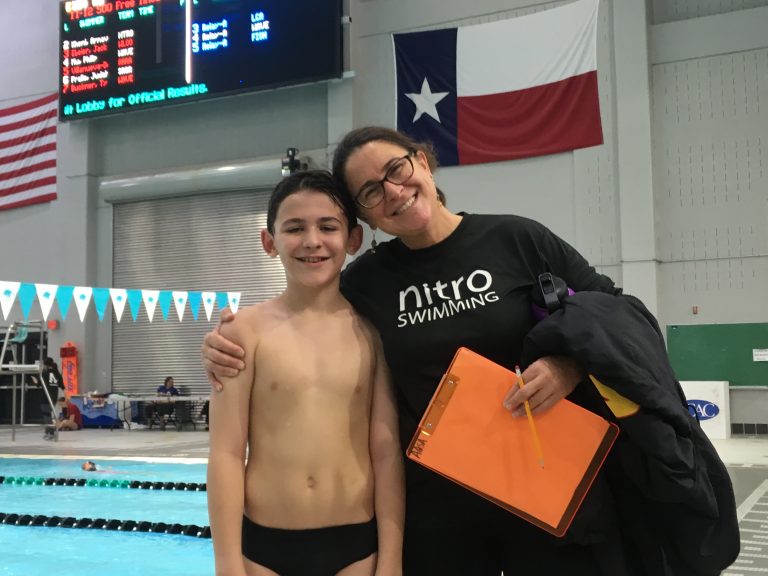 Championship Meet #2 in the books! Nitro took the win with 2,264 points, next was Alamo Area with 1426.5 points followed by the rest of our LSC. Congrats to ALL Nitro Swimmers!
First and foremost, we would all like to thank the parents who volunteered to time this weekend. We had ZERO issues with parents making it to their shifts on time. We had 20 slots to fill, and had some parents even volunteer twice!
On night #1 we had some of our distance events. Destiny Guerra took the win in the girls 15-18 Mile, while Daniel Ybarbo took the win in the boys 11-12 Mile, and Cameron Groszek coming in second and dropping 24.5 seconds! Bryce Clayton might have done an extra 50 of racing, but at the mile mark he still nailed the #1 spot with a 19:11. And to finish off the night, Justin Milushev won the boys 15-18 Mile, dropping over a minute, and achieving his first ever STAGS time!
Once Saturday and Sunday rolled around, the team spirit was in full swing. Each of the sessions started with a Nitro cheer, and you can tell how much the kids LOVE shouting 'Don't Mess!'. Some of the best parts of the weekend were watching brand new swimmers to the championship scene develop confidence in their racing. Stella Estipona not only achieved new STAGS cuts, but she showed such growth throughout the weekend. Best sportsmanship of the weekend goes to Hannah Seal and Ava Chozick as they both powered through the 200 Fly together, but watching them high five, hug, and say how proud they were of one another after their races was the best. Best cheerleader of the weekend goes to Ruby Teeters, as her cheering style is very similar to that of a coach!
We are so proud of every swimmer this weekend, and we look forward to STAGS, TAGS, and Sectionals!
GO NITRO!
-Nitro Coaches